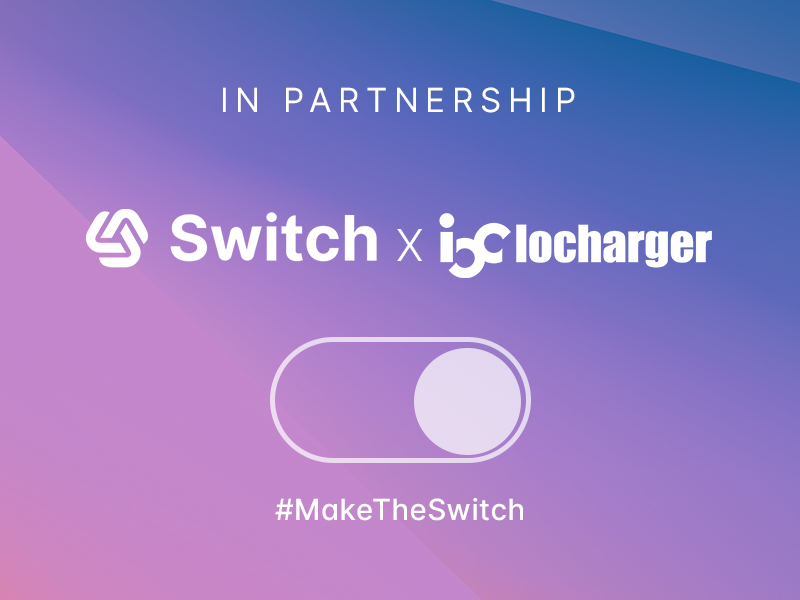 Switch and Iocharger form a new partnership to lift the user experience of EV charging to a new level.
Iocharger can now deliver its chargers with built-in advanced OCPP 2.0.1 capabilities, such as enhanced cybersecurity, native support for ISO 15118 Plug & Charge and advanced component-level diagnostics.
Future-proof software certified by the Open Charge Alliance (OCA) offers high flexibility and convenience for EV drivers and network operators.
London, 26 September 2023 – Switch, creators of the first OCPP 2.0.1 certified EV charging system with Plug & Charge (PnC) support, has joined forces with fellow OCPP 2.0.1 pioneer Iocharger to fix the EV charging infrastructure in the UK, mainland Europe, Asia-Pacific and the US.
Switch and Iocharger are deeply integrated and co-tested on their 2.0.1 connection. And Iocharger stations now come with an auto-onboarding option for connection to the Switch Platform.
So installers can set the solution up with minimal effort. Ensuring Charge Point Operators (CPOs) can hit the ground running with advanced charging capabilities.
Iocharger is a Switch Approved charger manufacturer. Being Switch Approved means its chargers are equipped with the latest open communications protocols to support advanced EV charging features like:
Advanced component level diagnostics: Exposes the hardware and software components of the station to the backend. It's as if you put the charger under an MRI scanner to shed light on all its sensor data.
Industry-leading cybersecurity: This ensures that communication between the EV and the charging station (as well as between the charger and the management platform) is cryptographically secure.
Secure firmware updates: New features and system improvements are installed through trusted software validated by digital certificates and signatures. It's the most secure way to maintain charging stations at an industry-leading level.
The Switch Platform provides native support for these charging functionalities on all Iocharger devices. And it's expected that the alliance will support tens of thousands of chargers worldwide.
The arrangement lets Switch Platform users expand into new markets – and Iocharger customers maintain and optimize their charging networks via an intuitive and elegant interface.
Commenting on the partnership, Switch's founder and CEO Dr Marc Mültin says:
"We see a huge benefit in closer market collaboration in the EV charging space. Particularly now the end-user expectations are more sophisticated and challenging. We are proud to be able to offer Switch customers a choice of Iocharger hardware."
Wang Zheng, CEO of Iocharger says: "Our focus on end-user experience, product quality and reliability is strengthened by this partnership. With the Switch Platform as our preset backend, we can elevate our value proposition for our customers."
Switch's founder and CEO Dr Marc Mültin is available for press questions related to this release.
As the co-author of ISO 15118, Dr Mültin is uniquely qualified to explain the significance of open communications protocols for EV charging and provide commentary on the ecosystem in general.
To schedule a call with Marc, send an enquiry to our Marketing and Communications Director Ben Kegler at ben@switch-ev.com.
To schedule a meeting with Iocharger, send an enquiry to sales@iocharger.com.
About Switch and Iocharger
Switch is a fast-growing tech and knowledge company on a mission to fix the broken EV charging ecosystem. Switch offers the only future-proof and backwards-compatible EV charging system on the market. The company was founded in London in 2020 by Dr Marc Mültin, a world-renowned leader in the communication standards that underpin the global EV charging ecosystem.
Learn more at https://newsroom.switch-ev.com/
Iocharger, a registered brand of Xiamen Galaxy Camphol Technology CO., Ltd., is a Chinese high-tech company operating at the core of the renewable energy transition, with R&D centers and production bases in Xiamen, Suzhou and Luoyang. The company provides premium, smart end-to-end energy solutions, including CE & UL certified AC/DC EV Charging Stations, CSMS (Charging Station Management System), ESS (Energy Storage System) and EMS (Energy Management System), with reliable hardware & software design. As a member of the OCA (OCPP) & OCPI, its OCPP 1.6J & 2.0.1 EV Chargers have been approved by top charging operators, gas stations and utilities all over the world.
Learn more at https://www.Iocharger.com/company-news/