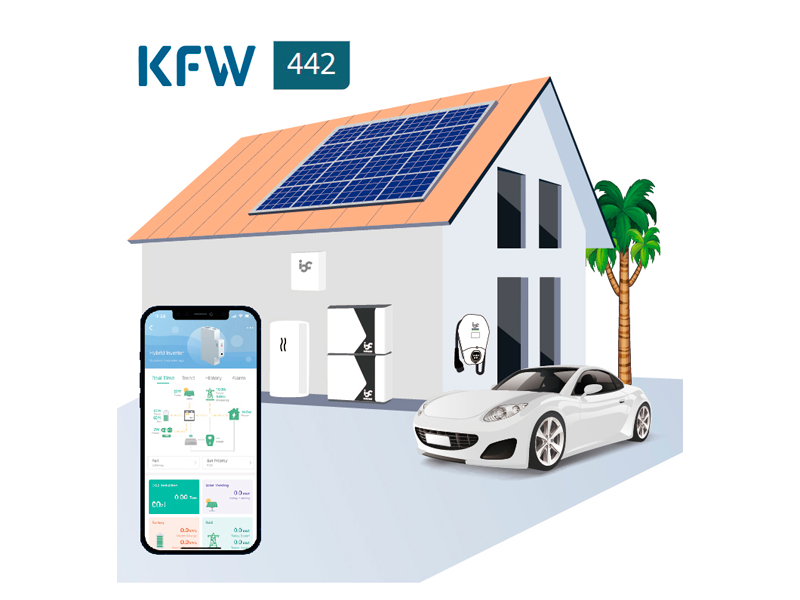 New E-mobility funding program from German development bank KfW is available. KfW 442 is funding program to encourage purchase & install complete system including all 3 components: Electrical Vehicle Charging Station, Photovoltaic System, and Solar energy storage system. Only 1 or 2 components cannot receive the subsidy. If you are thinking to install a new Electric Vehicle Charging Station with green energy at your home in Germany in near future, here we help summarize important tips you should pay attention to get the KfW grant.
For EV charging station: funding can be disbursed for a new charging station at least 11kW charging power.
For PV system: funding is available for a new PV system with minimum 5kWp.
For Solar energy storage system: you can receive funding for a new solar energy storage system with minimum 5kWh capacity.
Requirements to get the funding:
You must own or leasing (if leasing, the period must ≥ 12months) a private pure EV (Hybrid car not supported. Company car excluded). The car should be registered in your name or in the name of someone residing in your household. Or you should have ordered an EV at the time of the application.
You must own and live in residential building (primary, main or sole residence). Cannot be owner-occupied flats, rented houses, or new buildings before move in.
You must purchase the charging station, photovoltaic system, and solar storage system as new items. Means at the time of your application, you should not have already ordered any of these components. And the charging station must be on the KfW list of eligible charging stations.
If the total project costs are less than the total amount of the grant, you will not receive any funding.
The installation must be carried out by professional qualified company.
You can also double check if you are eligible for the funding by answering the questions at KfW 442 website.
Funding amount you can get:
The installation must be carried out by professional qualified company.
For the Photovoltaic system: €600 per kWp, and €6,000 maximum.
For the Solar power storage: €250 per kWh, and €3,000 maximum.
The maximum grant amount you can receive under KfW 442 program for your project is €9,600 / €10,200.
Steps to apply for the funding:
Apply for Grant at KfW: Before you ordering your new EV charging station, PV system, and Solar energy storage system, you need to get the KfW website to submit your application through Meine KfW customer portal.
You can proceed the orders and complete the installation after your application approved.
Provide all the evidence and receive the subsidy.
Advantages to select Iocharger for your project:
Iocharger EV charging station AH10 (11kW, 22kW) is eligible charging station in KfW list. You can get your subsidy by selecting Iocharger EV charging station without worries about the rear.
Iocharger EV charging station is with latest EV charging technology, supporting ISO 15118. If you need a bidirectional charging station, Iocharger EV charging station is your best choice.
According to KfW, all components can also be purchased from different suppliers. However, if all components can be ordered from a single supplier, it will be much easier for customers. Iocharger is such a supplier offering complete solution from EV charging station, PV system, to Solar energy storage system. All of them are CE certified and proved to be successful in many applications in Europe. With Iocharger's turnkey solution, you can get grant under KfW 442 program smoothly by selecting all components from Iocharger.